Featured Arcticle!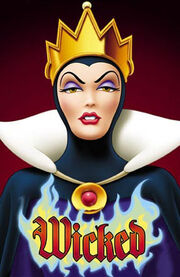 The Evil Queen is the ruler of an unknown kingdom where Snow White and the Seven Dwarves takes place. She is very fair but very vain and would constantly ask her magic mirror "Who is the Fairest of them All?" The answer was alway her until one day, the mirror revealed that Snow White had become more beautiful than her. Consumed by rage, she went on a vendetta against Snow White that ultimately led to her downfall.
Bring in the New Villains
To write a new article, just enter the title in the box below.
Not sure where to start?
Adding content
Every wiki has two list of articles that need help called "Stubs" and "Wanted Articles". Don't be shy, get in there.
Uploading images is another really easy way to help out - see the Special:Upload page!
You can find a list of useful templates on Category:Templates, some of which are documented on the templates project page.
Talk and more...
Check out the community portal to see what the community is working on, to give feedback or just to say hi.
It's Our Wiki Now!
Template:-
'Happy Halloween!' It's Halloween on Wickedpedia and to celebrate wer're going to have a new featured article every month! We are also going to have a new featured YouTube video so check back often. This Halloween is going to be the best one ever!