ATTENTION: THIS WIKI IS FOR DISNEY VILLAINS ONLY. MAKE SURE THAT YOU KNOW WHO AND WHAT IS AND ISN'T A DISNEY VILLAIN BEFORE MAKING ANY EDITS TO THIS WIKI!
Please Read: Ok, I'm done playing nice. From this point on, if you recreate a deleted page, you are automatically blocked for one month per article recreated. This is no joke because the admins and I are just plan SICK of this. Thank you for your time.
Greetings! This is DisneyFan89. As some of you read, this past summer I had planned to spend some time cleaning up this wiki page by page. Unfortunately, due to many circumstances, I was unable to do so and have actually been MIA for quite some time. However, I still plan to complete this project, and as a result, there may be times where some or all pages on this wiki are blocked from editing (except for admins). I apologize in advance for the inconvenience but I think you'll all like the result.
Featured Article!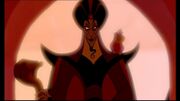 Jafar is the main villain in Disney's third Renaissance film, Aladdin. Jafar is the Grand Vizier to the sultan of Agrabah. Even though he seems to be a noble man at first, he is actually a treasonous schemer plotting to over throw the sultan. He first attempts to do this by having Aladdin steal the lamp for him. This fails and Aladdin becomes the master of the lamp instead. Jafar then begins using hypnosis to manipulate the Sultan so that he might marry Jasmine to achieve the sultan status. Aladdin foils this scheme but in the process reveals the lamp to Jafar. Jafar steals the lamp and uses the first wish to become the sultan. He uses his second wish to become the most powerful sorcerer in the world. After a battle with Aladdin, Aladdin tricks him into using his last wish to become a genie, causing Jafar to be bound to a lamp for all eternity. Jafar is voiced by Johnathan Freeman.
Bring in the New Villains
To write a new article, just enter the title in the box below.
Not sure where to start?
Adding content
Talk and more...
Check out the community portal to see what the community is working on, to give feedback or just to say hi.
Community content is available under
CC-BY-SA
unless otherwise noted.