ATTENTION: THIS WIKI IS FOR DISNEY VILLAINS ONLY. MAKE SURE THAT YOU KNOW WHO AND WHAT IS AND ISN'T A DISNEY VILLAIN BEFORE MAKING ANY EDITS TO THIS WIKI!
IMPORTANT NOTICE!!!!!!!!!
Due to recent problems, anyone who makes a page for a video game villain will automatically be blocked from editing this Wiki for 2 weeks, unless of course the villain is from a game made by Disney Interactive. There will be no ifs, ands, or buts to this rule. IN ADDITION, there is no need for a category that encompasses all of the Disney Villains. That is what this wiki is for, and having a category for it is incredibly redundant and pointless. Punishments will be given to those creating/adding to these categories. The only reason they are still up is so that I can see which article are still in them and delete the categories from the pages.
Featured Arcticle!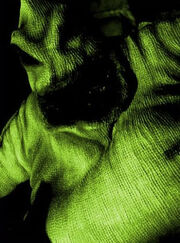 Oogie Boogie is the main villain in Tim Burton's The Nightmare Before Christmas. He serves as the film's main antagonist. Oogie is a giant back of bugs and the most dastardly creature in all of Halloween Town. Lock, Shock, and Barrel are three evil trick-or-treaters that do Oogie's bidding. When Jack hired them to kidnap "Sandy Claws", they dropped the legendary figure into Oogie's casino like dungeon. Oogie messes with Santa and puts his life on the line in a game of dice, Fortunately, Jack shows up and saves the day by unravelling Oogie and leaving nothing but bugs in his place.
Bring in the New Villains
To write a new article, just enter the title in the box below.
Not sure where to start?
Adding content
Talk and more...
Check out the community portal to see what the community is working on, to give feedback or just to say hi.