Line 1:
Line 1:
 

'''ATTENTION: THIS WIKI IS FOR DISNEY VILLAINS ONLY. MAKE SURE THAT YOU KNOW WHO AND WHAT IS AND ISN'T A DISNEY VILLAIN BEFORE MAKING ANY EDITS TO THIS WIKI!'''

 

'''ATTENTION: THIS WIKI IS FOR DISNEY VILLAINS ONLY. MAKE SURE THAT YOU KNOW WHO AND WHAT IS AND ISN'T A DISNEY VILLAIN BEFORE MAKING ANY EDITS TO THIS WIKI!'''

 
 
 
+

'''Please Read:''' I have decided that this wiki needs another adminstrator to keep it together. I will be holding interviews on my talk page. Briefly tell me why should should have the job, what you can offer the wiki, and what you would do to make it better. Be sure to sign with the four tilds-[[User:Disneyvillainman|Disneyvillainman]] 19:53, March 26, 2010 (UTC)

−

'''''READ THIS!!!'''''<br>The bird in the tree in Alice in Wonderland is absolutely 100% NOT a villain, despite two certain users who persist otherwise despite the page constantly being deleted by admins. I am pointing out this character because it is a particular problem, but the same goes for any other character - if a page is deleted, it is because the admins have deemed the character not a villain. It does not mean we are bored and feel like deleting pages so people can recreate them. Do not recreate a page that has been deleted. If this problem continues, bans will be handed out.

 
−
 
 

{| style="width:100%; padding:0.5em; text-align:center;"

 

{| style="width:100%; padding:0.5em; text-align:center;"

 

|-

 

|-

 

| valign="top" |

 

| valign="top" |

 

<big>'''Welcome Foolish Mortals to {{SITENAME}}'''</big><br/>The wiki about the Disney Villains that [[Help:Editing|anyone can edit]]. Please visit our [[Discussion Board]] for info on what we want to see on this wiki.

 

<big>'''Welcome Foolish Mortals to {{SITENAME}}'''</big><br/>The wiki about the Disney Villains that [[Help:Editing|anyone can edit]]. Please visit our [[Discussion Board]] for info on what we want to see on this wiki.

−
 
−

'''''Wickedpedia welcomes the Marvel Villains!'''''<br>After some discussion, we have decided that since Disney's recent buyout of Marvel, we are now accepting Marvel villains on this page! Before creating a page, make sure you know who is and is not a Marvel villain. Some famous series that that this change includes are: Spiderman, X-Men, Fantastic Four, Iron Man, and the Incredible Hulk, among others. It does NOT include: Batman, Superman, Wonder Woman, Green Lantern, Teen Titans, Justice League, Superfriends, just to name a select few. We will be monitoring this change very closely.

 
 
 
 

[[Special:Statistics|{{NUMBEROFARTICLES}} articles]] since '''April 2008'''

 

[[Special:Statistics|{{NUMBEROFARTICLES}} articles]] since '''April 2008'''
---
Revision as of 19:53, 26 March 2010
ATTENTION: THIS WIKI IS FOR DISNEY VILLAINS ONLY. MAKE SURE THAT YOU KNOW WHO AND WHAT IS AND ISN'T A DISNEY VILLAIN BEFORE MAKING ANY EDITS TO THIS WIKI!
Please Read: I have decided that this wiki needs another adminstrator to keep it together. I will be holding interviews on my talk page. Briefly tell me why should should have the job, what you can offer the wiki, and what you would do to make it better. Be sure to sign with the four tilds-Disneyvillainman 19:53, March 26, 2010 (UTC)
Featured Arcticle!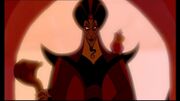 Jafar is the main villain in Disney's third Renaissance film, Aladdin. Jafar is the Grand Vizier to the sultan of Agrabah. Even though he seems to be a noble man at first, he is actually a treasonous schemer plotting to over throw the sultan. He first attempts to do this by having Aladdin steal the lamp for him. This fails and Aladdin becomes the master of the lamp instead. Jafar then begins using hypnosis to manipulate the Sultan so that he might marry Jasmine to achieve the sultan status. Aladdin foils this scheme but in the process reveals the lamp to Jafar. Jafar steals the lamp and uses the first wish to become the sultan. He uses his second wish to become the most powerful sorcerer in the world. After a battle with Aladdin, Aladdin tricks him into using his last wish to become a genie, causing Jafar to be bound to a lamp for all eternity. Jafar is voiced by Johnathan Freeman.
Bring in the New Villains
To write a new article, just enter the title in the box below.
<createbox> width=24 break=no buttonlabel=Create new article </createbox>
Not sure where to start?
Adding content
Talk and more...
Check out the community portal to see what the community is working on, to give feedback or just to say hi.
Community content is available under
CC-BY-SA
unless otherwise noted.