Featured Arcticle!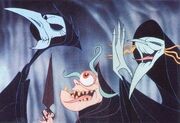 The Fates are three witch sisters that rule over destiny. There are three of them. Clotho (the green one) spins the thread of life. Lachesis (the blue one) assigns each thread to it's destiny. Atropos (the purple one) cuts the thread of life when it is time for a mortal to die. The Fates are more powerful than any of the other gods and therefore are feared by them. They seem to dislike Zeus and the Olympians and tend to prefer Hades.
Bring in the New Villains
To write a new article, just enter the title in the box below.
Not sure where to start?
Adding content
Talk and more...
Check out the community portal to see what the community is working on, to give feedback or just to say hi.