Featured Article!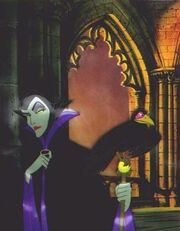 Maleficent was the main antagonist of Sleeping Beauty. She takes offense at not being invited to the christening of Princess Aurora and she tries to get revenge on King Stefan and the Queen by cursing Aurora. Like Chernabog, Maleficent is an incarnation of pure evil, responsible for all misfortune in King Stefan's kingdom; she appears to be particularly unfond of the three good fairies Flora, Fauna and Merryweather, her polar opposites, who do all in their power to keep Maleficent's overwhelming evil magic at bay. Maleficent is also famous for her role as one of the primary antagonists of the Kingdom Hearts series. With her gothic, elegant design, her attractive and seductive speaking voice and dramatic and flamboyant animation and unlimited arsenal of magic powers, Maleficent ranked #1 on UltimateDisney's Top 30 Villains Countdown.
Bring in the New Villains
To write a new article, just enter the title in the box below.
Not sure where to start?
Adding content
Talk and more...
Check out the community portal to see what the community is working on, to give feedback or just to say hi.
ATTENTION: THIS WIKI IS FOR DISNEY VILLAINS (ANIMATED,LIVE-ACTION,PIXAR,MARVEL,STUDIO GHIBLI,ETC.) ONLY. MAKE SURE THAT YOU KNOW WHO AND WHAT IS AND ISN'T A DISNEY VILLAIN BEFORE MAKING ANY EDITS TO THIS WIKI!
Please Read: Ok, I'm done playing nice. From this point on, if you recreate a deleted page, you are automatically blocked for one month per article recreated. This is no joke because the admins and I are just plan SICK of this. Thank you for your time.
Greetings! This is DisneyFan89. As some of you read, this past summer I had planned to spend some time cleaning up this wiki page by page. Unfortunately, due to many circumstances, I was unable to do so and have actually been MIA for quite some time. However, I still plan to complete this project, and as a result, there may be times where some or all pages on this wiki are blocked from editing (except for admins). I apologize in advance for the inconvenience but I think you'll all like the result.