Vincent Leonard Price was an American actor, known for his talent for portraying villainous characters.
He had quite an influence on the Disney universe and was a favorite actor of Tim Burton, director of The
Nightmare Before Christmas. Burton produced a stop-motion animated horror film entitled Vincent in tribute to Price. Narrated in rhyming format by Price, the film tells the story of a polite, intelligent but socially withdrawn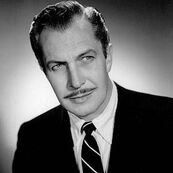 young boy named Vincent Molloy who becomes obsessed with the macabre. A fan of Vincent Price and an avid reader of the works of poet Edgar Allen Poe, Vincent eventually develops paranoid schizophrenia and takes to the delusional belief that he is in fact Vincent Price with disastrous consequences.
Price also provided the voice of Professor Ratigan in Basil the Great Mouse Detective and later stated that it was one of his favorite roles. He described Ratigan as being "the ultimate villain" and "flamboyant and charming and maniacal and erratic all at the same time."
The characters of Jafar, Clayton, and Judge Claude Frollo all share physical and vocal similarities with Price and were probably modeled on him.
Community content is available under
CC-BY-SA
unless otherwise noted.