Click To Help Maleficent

"Listen well, all of you!", "Tobe's Ninjas,"
is nothing more than an insignificant stub.
It is in desperate need of more content.
So says Maleficent:
the Mistress of All Evil.



Click To Help Ursula!

You Poor Unfortunate Soul, this "Tobe's Ninjas,"
has been found to need Ursula's Touch.
It MUST be rewritten, see the light, and make a switch!!
So says Ursula:
the true queen of Atlantica.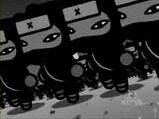 Tobe's Ninjas are characters and antagonists in Pucca.
History
They are Tobe's minions who, more often than not, eliminate themselves by misinterpreting Tobe's commands or by just utterly acting stupid, much to Tobe's annoyance. Tobe's ninjas are almost never unmasked, even if they go to sleep. Tobe's ninjas can also sometimes be too stupid and sometimes they forget the commands that he gives. They somewhat are vague and not do many things. They can be useless, but the Tobe needs them to try to hurt Garu. They are very easy to defeat.
Description
They have a black ninja clothes, and have an X in the middle of their head, much like Tobe. Sometimes (usually) they are useless and stupid.
Character variations
Ninjas Greek Ninjas hippies Ninjas explorers of the Jungle Ninjas in disguise Ninjas wedding dresses Women Ninjas Ninjas Nurses Ninjas in a white suit Ninjas West
Community content is available under
CC-BY-SA
unless otherwise noted.