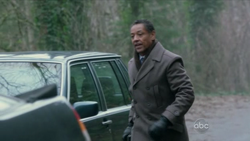 Sidney Glass is a character and antagonist in Once Upon a Time. He is the Magic Mirror's Storybrooke counterpart.
History
In Storybrooke, he is Sidney Glass. He is first seen gathering information on the newcomer Emma Swan under the mayor Regina Mills' orders. However, he is unable to get anything from her. Regina threatens him, and he leaves. Sidney then publishes many articles about Emma's messy past, trying to make the townspeople begin to hate her. However, this tactic is unsuccessful. Some articles on Emma's past include how Henry Mills was born, and that she was drunk when she hit the Storybrooke landmark by the side of the road.
After Sheriff Graham's death, Regina appoints Sidney as the new sheriff. However, Emma challenges this. He makes a speech at the debate that occurs prior to the election, something that was clearly created by Regina. However, due to Emma revealing that the fire at the mayor's office was Mr. Gold's doing, he lost. This caused Regina to fire him from The Daily Mirror.
After the election, Regina has an argument with Emma. After the mayor leaves, Sidney slides into the opposite end of the booth Emma was at and tells her that he can help her expose Regina for who she really is. However, when they try to expose her at the town meeting, the "house" that Regina was building was actually a modern playground for the children of Storybrooke. Ashamed and embarrassed, Sidney retreats to Granny's Diner in order to have a drink. Emma joins him there, and the two pledge to become allies. When he was no longer use of value to Regina, he is revealed to be a prisoner in the catacombs of the hospital when Jefferson goes to let Belle out of her cell when Regina had to refuse to hold her end of the bargain in episode, "A Land Without Magic".
A few years later, Regina makes Sidney the Magic Mirror again to make him look for a person known as the Author in hopes of finding a happy ending for herself. This entrapment prompts Sidney to conspire with the Snow Queen and lure Regina and Emma into a trap in exchange for his freedom. Once done, the Snow Queen holds her end of the bargain. While Sidney is willing to serve her, she is only interested in collecting a piece of the mirror he was trapped in. He was then released into the magic-free world.
Community content is available under
CC-BY-SA
unless otherwise noted.