Click To Help Maleficent

"Listen well, all of you!", "Serge the Concierge,"
is nothing more than an insignificant stub.
It is in desperate need of more content.
So says Maleficent:
the Mistress of All Evil.



Click To Help Ursula!

You Poor Unfortunate Soul, this "Serge the Concierge,"
has been found to need Ursula's Touch.
It MUST be rewritten, see the light, and make a switch!!
So says Ursula:
the true queen of Atlantica.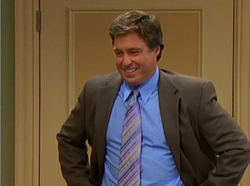 Serge is a character and antagonist in The Suite Life of Zack & Cody. He was the previous concierge of the Tipton Hotel. He only appears in the episode "The Prince & The Plunger".
History
Serge the Concierge is a liar; he lied about sending the flowers and poems to Carey Martin, even if he does like her a lot. He is condescending and arrogant towards her children, Zack and Cody. He treats them badly, and the boys do not like that about him. Serge was the concierge for the Tipton. The hotel engineer, Arwin Hochauser sent flowers and poems to Carey's doorstep, but when Zack, Cody and Maddie think it may be the new concierge who did it, Carey asks Serge out. Serge is then caught in a lie, but no one knows until the twins find out it is Arwin. On the date, Serge is called on his phone due to a customer problem. But there is no problem - Cody and Maddie pull a prank on him so Arwin can make his move. Eventually Carey finds out, Serge is dumped and the twins spill goat milk on his head. Additionally, he seems to be a fairly good worker, but due to the incident he was probably fired.
Community content is available under
CC-BY-SA
unless otherwise noted.