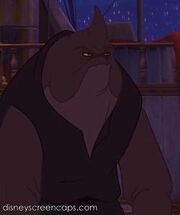 Schwartzkopf (a.k.a Mertock) is a purple manatee alien with a horn on his head, tentacle-like legs and clawed fingers. He is voiced by the late Robert Pastorelli.
Treasure Planet
He seems to be a purple anthropomorphic manatee with clawed fingers, coiled tentacles that serve as his two legs, and a pudgy horn-like limb that sprouts from his head. He had a part in the raid on the Benbow Inn, (yelling out "Where is it?!") scavenging through drawers containing silverware for the map that Billy Bones tried to hide from the pirates. It is unknown what had happened to Mertock in the film, as he is last seen restraining Amelia when he, Silver, and the other pirates ambushed Jim. However, Mertock gives him a complimentary remark.
Community content is available under
CC-BY-SA
unless otherwise noted.