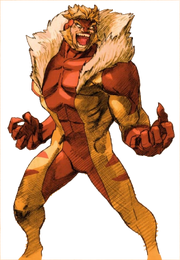 Sabretooth (Victor Creed) is a character from the Marvel universe. Originally portrayed as a non-powered serial killer, Sabretooth is later written as a mutant who possesses bestial superhuman abilities, most notably a rapid healing factor, razor-sharp fangs and claws, and superhuman senses. He is a vicious assassin responsible for numerous deaths both as a paid mercenary and for his personal pleasure.
The character Wolverine is depicted as his long-time enemy, although conflicting accounts have been given as to the origin of their feud. It is also known that he and Sabretooth were victims of the Cold War supersoldier program Weapon X, and that Sabretooth saw Wolverine as competition and tried to make his life miserable. While Wolverine is depicted as suppressing his more savage qualities, Sabretooth does the opposite and embraces them.
Sabretooth has appeared in several X-Men animated series and video games. Played by Tyler Mane, he was a henchman of Magneto in the first X-Men film and X-Men: The Official Game. Liev Schreiber plays him in the 2009 film X-Men Origins: Wolverine as the (former) secondary antagonist.
Community content is available under
CC-BY-SA
unless otherwise noted.