Click To Help Maleficent

"Listen well, all of you!", "Robo Perry,"
is nothing more than an insignificant stub.
It is in desperate need of more content.
So says Maleficent:
the Mistress of All Evil.



Click To Help Ursula!

You Poor Unfortunate Soul, this "Robo Perry,"
has been found to need Ursula's Touch.
It MUST be rewritten, see the light, and make a switch!!
So says Ursula:
the true queen of Atlantica.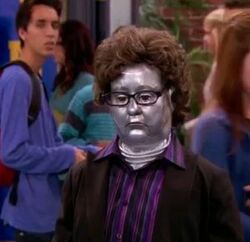 Robo Perry is a character from Lab Rats.
History
She is a robot created by Donald Davenport and is designed to roam the halls, handing out detentions to students while Terry Perry is away. She is a robotic version of Principal Perry and patrols the hallways in Mission Creek High. She makes her appearance in "Perry 2.0." She was later destroyed at the end of the episode by Perry.
She is portrayed by Maile Flanagan.