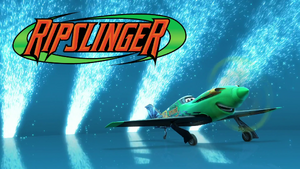 Ripslinger is the main antagonist in Planes. He is voiced by Roger Craig Smith.
Bio
With more wins than he can count and an abundance of fans, Ripslinger is wings-down the biggest name in air racing        and he knows it. But despite sky's-the-limit funding and state-of-the-art equipment, the world champion still dosen't play fair       especially when it comes to a small-town plane with zero racing experience. Dusty dosen't belong in Ripslinger's sport and his mere presence makes the pro's fuel boil. And if Dusty's inexperience dosen't take him out of the race, Ripslinger's vast empire includes a couple of underhanded sidekicks to take care of business.
Planes
Ripslinger was seen making green smoke around the airstrip and Dusty and Chug called him the Green Tornado. Ripslinger and his henchmen don't like Dusty Crophopper at all. Ripslinger was listneing to Hip Hop music and dismissed Dusty by calling him a farmboy. After Dusty saved Bulldog from an engine overheat he called Dusty a nice guy, in a sarcastic way. At the German oil hall he was whispering something to Ishani. In Shanghai, Ripslinger ordered his henchmen to break Dusty's antenna and he was so pleased about it. The next morning Ripslinger and his goons ambushed Dusty, using new parts donated from the other racers, Skipper had came to the rescue. Ripslinger ripped off Skipper's tail and Ripslinger got defeated by wrecking the porta potties after his ego got the better of him, by unknowingly letting Dusty pass him.
Trivia
Ripslinger is Dusty Crophopper's rival.
He is one of the Disney villains to be rude, and have a lot of pride.
Ripslinger has two henchplanes named Ned and Zed.
Ripslinger's racing nickname is "The Green Tornado"
Ripslinger's racing number is 13, which some say is an unlucky number.
His wingspan is up to 26 feet long.
Ripslinger is the captain of Team RPX.
Ripslinger loves Hip Hop music.
Ripslinger offered Ishani one of his Skyslycer Mark Five propellers to give Dusty a misleading tip to Nepal, only to backfire when Dusty made it through the tunnel.
Community content is available under
CC-BY-SA
unless otherwise noted.