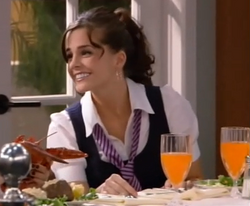 Portlyn Maddison (Jillian Murray) is a co-star and antagonist in Mackenzie Falls. She might play herself, or a character with the same name, but it is not known, for she haven't been on very many episodes. It is believed she plays Chad's love interest on the drama. Chad says Portlyn will mysteriously disappear in a ballooning inncident.
Personality
In her first appearance, she and Chad were filming a scene for Mackenzie Falls. Later in the episode she and all other cast members competed in musical chairs against So Random!. She is proved to not be very bright, as when she revealed Chad's plan to keep the So Random! cast fighting with each other so MacKenzie Falls could stay number one. She didn't mean to ruin his plan, but apparently, she didn't know that was a secret to the So Random! cast. And then Chad told her to "not talk without a script". In "West Coast Story" while competing in musical chairs, Portlyn almost lost, but Nico offered her his chair, because he was nice to the lady, which he regretted a second later. She is next seen in Sonny at the Falls at the end of it she reveals the plan to keep MacKenzie Falls the number one show.
Portlyn is from Lynchburg/Roanoke, Virginia.
Physical appearance
Portlyn is often seen wearing the trendy Mackenzie Falls uniforms on set. She is thin and fit, and Sonny tells her "You have great legs, let's see how they move." She has long dark brown curly hair and fair skin. She wears preppy clothing and accessories, such as pearls, and has a clear complexion and classic beauty.
Appearances
In "Battle of the Network's Stars", the real Portlyn did not appear, an actress who played her in Chad Dylan Cooper: The Chad Dylan Cooper Story did.
"West Coast Story"
"Sonny at the Falls"
"Tales From the Prop House"
Trivia
Her Birthday is October 8, 1991.
Community content is available under
CC-BY-SA
unless otherwise noted.