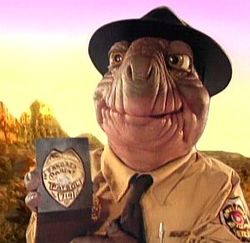 Officer Bettelheim is an officer of the Pangaea Parent Patrol in the Dinosaurs episode "License to Parent" where he is the main antagonist. He was voiced by Michael McKean, his body was puppeteered by Michelan Sisti and his face was operated by David Greenway. He was made from the Turtlepuss Unisaur.
He cites Earl Sinclair for bad parenting and revokes his parent's license, subsequently doing likewise for Fran Sinclair.
When he finds himself in charge of the Sinclair children, however, the officer finds that his manual doesn't cover everything and pulls a gun on Baby Sinclair. To save his badge, Bettelheim drops the charges.
During the end credits, in a spoof of Dragnet, Bettelheim was suspended from the Parent Patrol for parent code violation and displaying severe emotional instability. He was allowed to return to duty when he thought good and hard about what he had done.
Community content is available under
CC-BY-SA
unless otherwise noted.