Night on Bald Mountain is a composition by Modest Mussorgsky that exists in at least two versions — a seldom performed 1867 version or a later (1886) and very popular 'fantasy for orchestra' arranged by Nikolai Rimsky-Korsakov, A Night on the Bare Mountain (Ночь на лысой горе, Noch' na lysoy gorye), based on the vocal score of the "Dream Vision of the Peasant Lad" (1880) from The Fair at Sorochyntsi with some revisions, most notably the omission of the choir. There is also a version orchestrated by twentieth-century conductor Leopold Stokowski; this is the version used in the now-classic 1940 Walt Disney animated film Fantasia.
Inspired by Russian literary works and legend, Mussorgsky made a witches' sabbath the theme of the original tone poem, completed on June 23, 1867 (St. John's Eve). St. John's Night on the Bare Mountain and Rimsky-Korsakov's 'musical picture' Sadko (also composed in 1867) share the distinction of being the first tone poems by Russian composers.
As with so much of Mussorgsky's music, the work had a tortuous compositional history and was arranged after his death in 1881 by his friend and fellow member of the The Mighty Handful Rimsky-Korsakov. It was never performed in any form during Mussorgsky's lifetime.[2] The Rimsky-Korsakov edition premiered in 1886, and has become a concert favorite.
Note on the title
: The Russian word "лысая" (lïsaya) literally means "bald", but is used in this case figuratively for a mountain supposedly barren of trees. In English, the titles
A Night on the Bare Mountain
or
Night on Bald Mountain
are used.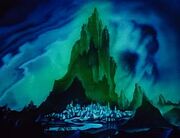 Related article: Chernabog
Community content is available under
CC-BY-SA
unless otherwise noted.