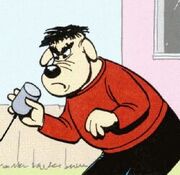 Neighbour J. Jones is a fictional character created by Carl Barks for the Walt Disney Company. He is Donald Duck's next door neighbour. He is not really a crook but he is an antagonist.A fictional character is any person who appears in a work of fiction. ... Jump to: navigation, search Carl Barks (March 27, 1901 – August 25, 2000) was a famous Disney Studio illustrator and comic book creator, who invented Duckburg and many of its inhabitants, such as Scrooge McDuck and the Beagle Boys. ... The Walt Disney Company (most commonly known as Disney) NYSE: DIS is one of the largest media and entertainment corporations in the world.

He first appeared in Walt Disney's Comics and Stories #34. There and in later issues, he tended to appear in stories featuring Donald Duck. Neighbour Jones was the first of many recurring characters that Carl Barks created. In some stories Jones is depicted as living with his mother. His first name was revealed to be "Jughead" in one story; but that form of his name can no longer be used because it belongs to Jughead Jones, the best friend of Archie Andrews in the popular Archie Comics. Walt Disneys Comics and Stories is a comic book that has an assortment of Disney characters, including Mickey Mouse, Donald Duck, Chip n Dale, Lil Bad Wolf, Scamp, Bucky Bug, and others.

In some stories he is depicted as a ship's captain. Italian ship-rigged vessel Amerigo Vespucci in New York Harbor, 1976 A ship is a large, sea-going watercraft, sometimes with multiple decks.
Community content is available under
CC-BY-SA
unless otherwise noted.