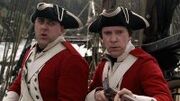 Murtogg and Mullroy are Royal Marines and minor antagonists of the Pirates of the Caribbean franchise. They are introduced in the first film Pirates of the Caribbean: Curse of the Black Pearl as Royal Marines in charge of guarding the HMS Interceptor from civilians. They frequently argue amongst themselves, and prove to be little of a challenge against Captain Jack Sparrow. At the conclusion of Pirates of the Caribbean: At World's End, Murtogg and Mullroy switch sides from the East India trading Company to join the ranks of Hector Barbossa's pirate crew.



Click To Help Ursula!

You Poor Unfortunate Soul, this "Murtogg and Mullroy,"
has been found to need Ursula's Touch.
It MUST be rewritten, see the light, and make a switch!!
So says Ursula:
the true queen of Atlantica.



Click To Help Maleficent

"Listen well, all of you!", "Murtogg and Mullroy,"
is nothing more than an insignificant stub.
It is in desperate need of more content.
So says Maleficent:
the Mistress of All Evil.
Community content is available under
CC-BY-SA
unless otherwise noted.