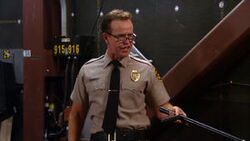 Murphy is a character and antagonist from the TV show Sonny with a Chance. He is the offbeat security guard at Condor Studios, who takes his job a little too seriously. He is portrayed by Steve Hytner.
History
In the episode "Three's Not Company", Murphy eats Nico and Grady's pizza. Nico and Grady then get back at him by putting hot peppers on another pizza and tricking him into eating it. The pizza was so hot Murphy ended up in the hospital with heartburn. Murphy punishes the boys by making them eat the leftover pizza, causing them pain.
In "Sonny With a Chance of Dating", he bans Nico and Grady from the cafeteria because they drank from the tip of the yogurt machine. Zora becomes their lawyer using a character from a sketch called "Sally Jenson: Kid Lawyer". Eventually, Zora ends up giving the boys a sentence of six hours of community service, not fighting for them at all. Murphy catches them again drinking from the frozen yogurt machine and bans them again. In the alternative ending of the episode, Murphy is suspended without pay due to the fact that he was banning Grady and Nico was in fact not on the rule book.
In Dakota's Revenge, he appears when Dakota reports to him when she thinks her bike has been stolen and orders him to find it. Murphy however just goofs around playing with his glasses (Good Cop, Bad Cop) and injures his eyes with the glasses' tips. He then halts Sonny and Tawni who were carrying Dakota's bike hidden in a bag, and asks them if they like his glasses.
At the end of the episode, he is singing the Chad song with Mr. Condor, the So Random! cast, Dakota, and Chad.
Community content is available under
CC-BY-SA
unless otherwise noted.