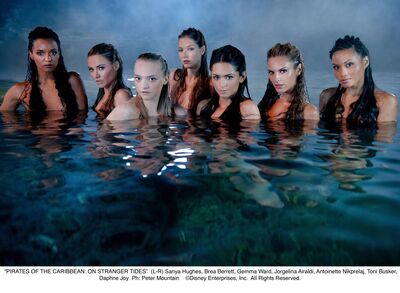 Mermaids are creatures that are part fish and part women and minor villains in Pirates of the Caribbean: On Stranger Tides. They are found in White Cap Bay and Isle Sirena.
Personal life
Mermaids first appeared once the crew arrived in White Cap Bay. Tamara starts to sing a song about glittering gold until the viewers see sharp teeth. Other mermaids are not happy when someone is tresspassing their bay. The Mermaid Attack started. They probably drowned Derrick and the Cabin Boy and later attacking. Soon, Syrena has a sword stabbed in her tail and some mermaids swam away after the explosion. Soon, Syrena was caged and was later in a coffin. Mermaids were never seen again.
Notable mermaids
Syrena
Marina
Morveren
Aquila
Aquala
Tamara
Community content is available under
CC-BY-SA
unless otherwise noted.