Click To Help Ursula!

You Poor Unfortunate Soul, this "Madam Mim,"
has been found to need Ursula's Touch.
It MUST be rewritten, see the light, and make a switch!!
So says Ursula:
the true queen of Atlantica.



Click To Help Maleficent

"Listen well, all of you!", "Madam Mim,"
is nothing more than an insignificant stub.
It is in desperate need of more content.
So says Maleficent:
the Mistress of All Evil.
Madam Mim is the tertiary, but true, antagonist of The Sword in the Stone.
In the movie, she is on the verge of destroying Wart, when Merlin comes just in time to rescue him. Mim challenges him to a Wizards Duel, a battle of wits in which the combatants transform into different animals in order to destroy their opponent. Madam Mim appears to have won when she has turned into a purple dragon and captures Merlin, who has turned into a mouse. Merlin, however, becomes the true victor when he turns into a rare germ called Malagolintomontorosis, and infects Mim. She ranked #25 in the top 30 disney villains (One better than Sid Phillips but one under Clayton.)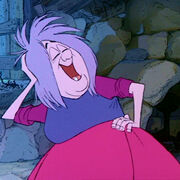 wild animals in shape-shifting fight
whale
crocodile
raccoon
rooster
indian elephant
leopard
boa
Rhino
Lizard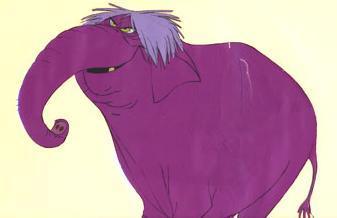 Personality
Madame Mim is a cheater and a slickster. This is shown when she cheated in game with Wart when she said she would give him a "sporting chance" to survive. Then later, despite making the rules for the game of the duel between herself and Merlin, she went against her own rules despite making Merlin's own warning. Madam Mim is quite intellegent, almost winning in both games. Her motive for killing is so she can be the most powerful human being in the world. Unlike Cruella De Vil, she is a schemer. She loves finding loopholes out of agreements as shown when she said no pink dragons as part of her rules for the duel between herself and Merlin, but instead she turns into a purple dragon since she did not say "No purple dragons".
Trivia
Although she is the main villain, Mim only takes about 20 minutes of the film. Because of this, she is often confused to be the secondary and / or tertiary antagonist.
She interacts with Merlin's wise owl, Archimedes one time. When he is overheard telling Wart that she only wants rules so she can beat him. She tells Archimedes she will destroy him after she destroys Merlin, calling him a feather brain in the process. She didn't die from her illness.
Mim has made a few appearances in House of Mouse. She also appeared in Mickey's House of Villains, in which she helped the other villains take over the House of Mouse. In the end, she, along with the other villains, were defeated.