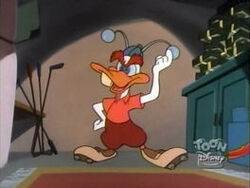 Lilliput Gooney is a minor villain from Darkwing Duck. He was voiced by Frank Welker.
Background
Lilliput owned the miniature golf course, "Gooney Golf", and was using a strange hat to communicate with and control ants. With his tiny minions, and his trusty shrink ray, he began turning St. Canard's monuments into miniature props for his golf course. This is essentially his modus operandi, as well as collecting some cash along the way. He is defeated when he shrinks Darkwing down to the size of the germ, and the caped crusader "infects" him.
Apparently, symptoms of Darkwing-itis involve one's face turning green and spotted, and is accompanied by uncontrollable sneezing. See your local doctor immediately, if symptoms worsen into a pervasive urge to wear a cape and speak in obsessive alliteration.
Lilliput appears in the episode "Getting Antsy", and makes a cameo with the villains who stole the S.H.U.S.H. Agency List in "In Like Blunt."
Community content is available under
CC-BY-SA
unless otherwise noted.