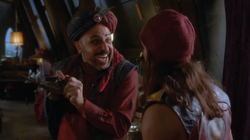 Jafar appears in the Disney Channel original movie, Descendants. Here, he is the father of one of the film's primary protagonists, Jay, and he is portrayed by Maz Jobrani.
20 years after being imprisoned on the Isle of the Lost, Jafar has taken to making a living as a shopkeeper. Jafar has Jay steal from the other residents to keep the store stocked. When Jafar notices that one of the stolen objects is a lamp Jay had brought him, he eagerly and excitedly tries to rub it; hoping for it to be a magic one in which he can supposedly get three wishes from a genie again but when his son tells him that he already tried that himself and it didn't work, he throws it away in anger. He, along with his friends, the Evil Queen, Cruella, and Maleficent have statues fabricated in the Cultural History museum in Auradon. Later, when talking to their kids through video chat, Jafar laughed at Cruella for getting "burned"/dissed by her son, Carlos. This mockery later led all four villains to squabble in embarrassment in front of their kids.
Community content is available under
CC-BY-SA
unless otherwise noted.