Click To Help Maleficent

"Listen well, all of you!", "Jackie Saenz,"
is nothing more than an insignificant stub.
It is in desperate need of more content.
So says Maleficent:
the Mistress of All Evil.



Click To Help Ursula!

You Poor Unfortunate Soul, this "Jackie Saenz,"
has been found to need Ursula's Touch.
It MUST be rewritten, see the light, and make a switch!!
So says Ursula:
the true queen of Atlantica.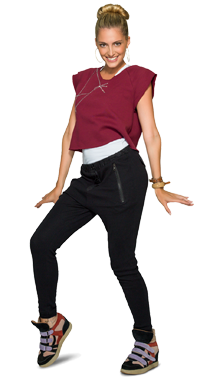 Jacqueline "Jackie" Saenz is a former dance teacher at Studio On Beat. She is also António's niece. She has a crush on Pablo, and she is jealous of Angie, as she knows that Pablo and Angie used to date and that they still have feelings for each other. She is a very strict person and was always strict with the students in her dance class, but she isn't as bad as Gregorio, whom she dislikes.
Jackie is portrayed by Valentina Frione.
Character History
Early Years
Jacqueline Saenz is Antonio's niece. At a certain age, she joined Studio 21 and excelled at dancing. There, she met Pablo and developed a crush on him, but she never told him. Some time later, Antonio invited her to be the new dance teacher while Gregorio was absent.
Season 2
Part 1
Jackie joined Studio On Beat as the new dance teacher since Gregorio was sacked. She was very strict to her students, because she wanted them to be perfect. During her time teaching, she started to interact more with her old friend Pablo, and they eventually fell in love and became a couple.
Part 2
The faculty get into many, many fights until Jackie loses her temper and quits.
Triva
She is Antonio's niece.
Gregorio hates her because she took his job.
Angie dislikes her because Jackie picks fights with her often.
It's possible that she's part French, because her first and last name both are originally from France.
She gets jealous easily.
She can be very overdramatic.
The majority of the faculty do not like her.