Click To Help Ursula!

You Poor Unfortunate Soul, this "Harpy,"
has been found to need Ursula's Touch.
It MUST be rewritten, see the light, and make a switch!!
So says Ursula:
the true queen of Atlantica.



Click To Help Maleficent

"Listen well, all of you!", "Harpy,"
is nothing more than an insignificant stub.
It is in desperate need of more content.
So says Maleficent:
the Mistress of All Evil.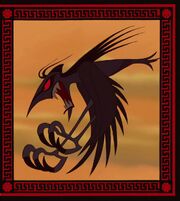 The Harpies are large female bird-like monsters with partially humanoid faces. In the film, a Harpy was recruited by Hades to kill Hercules however Hercules easily defeated it and trapped it in a cage. This Harpy also appeared in Hercules and the Underworld Takeover as a resident of the Underworld.
Another smaller and more older harpy appeared in Hercules and the Epic Adventure in which she is a thieving collector who steals anything that appears shiny or anything that seems interesting, like a poem. Whether Echidna is the mother of all Harpies or just the large one is unknown.
In the Hercules video game for the Playstation the Harpy had a different design, sporting a more humanoid appearance with green skin, feline-like legs and tail, and wings on her back. She is also very ugly.
Trivia
In the original myths the Harpies were the children of Electra and Thaumas.
you can also find harpies in fantasia during the popular segment, "night on bald mountain" (although they are topless)
Community content is available under
CC-BY-SA
unless otherwise noted.