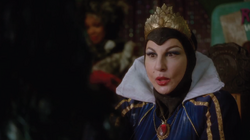 The Evil Queen appears in the Disney Channel original movie, Descendants. Here, she is the mother of one of the protagonists, Evie and is portrayed by Kathy Najimy. For 20 years of imprisonment on the Isle of the Lost, she has taught her daughter how to cook, sew, and do make-up. Due to her influence, her daughter has an ingrained obsession with beauty and the domestic skills that can entice a husband. She is also said to be the neighbor of Maleficent.
Maleficent always relies on the Evil Queen to open the refrigerator in order to help get her spellbook since she has no knowledge on how to open it herself. She plots with Maleficent along with Cruella De Vil and Jafar to use their children to steal the Fairy Godmother's wand so as to bend good and evil to their will. Though, she doesn't seem quite as invested as Maleficent, however, she does seem more invested than Jafar. To allow her children to make sure their mission in Auradon is a success, she gives her daughter the magic mirror (apparently smaller than it used to be) to help them find the wand; hoping her daughter could also find a prince to marry as well. She still holds a grudge against Snow White for being the fairest of them all.[1]
References
Community content is available under
CC-BY-SA
unless otherwise noted.