Click To Help Maleficent

"Listen well, all of you!", "Erik (Dog With a Blog),"
is nothing more than an insignificant stub.
It is in desperate need of more content.
So says Maleficent:
the Mistress of All Evil.



Click To Help Ursula!

You Poor Unfortunate Soul, this "Erik (Dog With a Blog),"
has been found to need Ursula's Touch.
It MUST be rewritten, see the light, and make a switch!!
So says Ursula:
the true queen of Atlantica.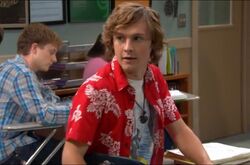 Erik is a student who used to be a friend of Tyler's in Dog With a Blog. He's portrayed by Logan Miller.
Character History
Erik took the accelerated program with Tyler to graduate school early, however, once Principal Lawson found out that two of their test answers are correct, he accuses Tyler of cheating due to his detention records. Erik confessed it was for Tyler to pin the blame on when he cheated off of him.
When Tyler retook the exam and ratted out Erik, he was kicked out of the program and they are no longer friends.
Trivia
Erik had a dream that when he graduated from the exam, he was gonna live his dream of joining the PNX circuit, which is pizza, naps, and extreme naps.

He explains that extreme naps start out standing up, and you wake up somewhere else, or he may be a sleepwalker.

He actor played Tripp Campbell in I'm in the Band.
Community content is available under
CC-BY-SA
unless otherwise noted.