"What are you worried about? Human relationships? Or is it a problem of love?"
Eight Foot Joe
Eight Foot Joe, or Joe for short, is a character of Tokyo Disney Sea's Halloween Time. He works for Ursula the Sea Witch from The Little Mermaid. His motif is an octopus.
Background
With the purpose of "inviting humans to the world of villains", each underling was changed into "figures appealing to humans" by their master villan and dispatched to the human world in Tokyo Disney Sea's 2015 Halloween.
Joe is one of them. It is said that he is an original octopus who has made a contract with Ursula who transform him into a cecaelian at her service. During the show he is introduced with the others by Mister V who said about him that he is "the best minion of Ursula"
If someone dared saying "Ursula-Sama", you will see him running away or try to find a way to escape mostly because he is overworked and insulting Ursula will only result in more work for himself.
His item is an umbrella with tentacles.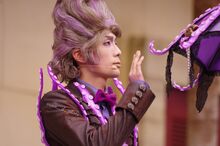 Personality
Joe is probably one of the recruiters who works the most. It is quite regular to see him rubbing his eyes to stay awake or yawning because he is too tired. He is usually hiding behind guests or sitting down somewhere away from the red carpet. When he has to speak, he is often screaming at people to shout louder or speaks rudely to guests if they are doing the wrong position. It's really rare to see him laugh yet if one of the recruiters is doing something stupid, you might see him
hidding his laugh behind his hand. His clothes were made by Ursula.
Relationships
His relationship with Ariel is quite hard to defined. If he sees someone dressed as the Little Mermaid, he will stop everything he is doing to said something nasty or scream at her. Also he calls her "Little girl" and once he has done a sign.
With the recruiters, it depends on who is with him. He seemed to be in good terms with the men in particular with Marfie who is probably his best friend. Both love teasing Apple Poison and are often seen together, playing or talking. That's different with the women, Joe stayed away from them and the only woman with who he seems to be in good terms is Miss Hades.
Community content is available under
CC-BY-SA
unless otherwise noted.