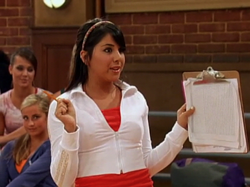 Dana Wohl is a minor antagonist in The Suite Life of Zack and Cody. She is a snooty cheerleader at Cheevers High School and has only appeared in the episode "Benchwarmers". She is portrayed by Daniella Monet.
Background
Origin
It is known that Dana was born into a wealthy family, giving her a snobby personality at times. She knows exactly what she wants, even when it comes to the cheer squad. She rejects anyone who she doesn't think is good enough, and she makes sure they know what she thinks of them. Dana received a new car and a new nose from her parents for her birthday.
Physical Appearance
Dana is quite pretty, she has long, brown hair. She is usually wears a short top and short pants, because she is a cheerleader. Dana occasionally wears a jumper to practice.
Appearances
The Suite Life of Zack and Cody
Dana is the captain of the Cheevers High cheerleading squad. Even though she is mean and self centered, she is very talented in what she does. At first, she seems like a fairly nice person, but she progressively gets meaner. Dana quite possibly may be rich, because she said she owns a blue convertible. In that same sentence she revealed that she was a Homecoming Queen. At the start of the episode, Nia Moseby claimed that she was flirting with Vance, but later on Vance dumped Nia just so he could date a cheerleader. Dana is considered quite popular, as most cheerleaders are.
Community content is available under
CC-BY-SA
unless otherwise noted.