Click To Help Maleficent

"Listen well, all of you!", "Brutale Drake,"
is nothing more than an insignificant stub.
It is in desperate need of more content.
So says Maleficent:
the Mistress of All Evil.



Click To Help Ursula!

You Poor Unfortunate Soul, this "Brutale Drake,"
has been found to need Ursula's Touch.
It MUST be rewritten, see the light, and make a switch!!
So says Ursula:
the true queen of Atlantica.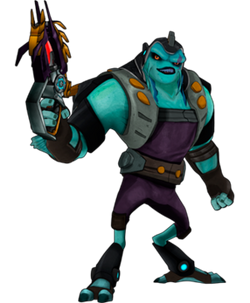 Brutale Drake is a character and antagonist from Slugterra. He is Malvolio Drake's brother. He is voiced by Michael Dobson.
He first appears in the episode "Dark Water, Deep Water", where he pays Drake's crew to work for him, assisting him in the protection of a Dark Water drill site: for this, Malvolio Drake calls the Shane Gang in stopping Brutale, so that Malvolio can take his crew back. Later, the two brothers fight together against Shane Gang, who manage to destroy the drill site and to send the Drake brothers' Mimkey Slug in a a shark's mouth. At end of the episode, Brutale, along with his brother, are punching and opening the jaws of cavern sharks, searching for their Slug.
Biography
Brutale Drake lives up to his name. The older and literally bigger brother of Malvolio Drake, Brutale is a brutal and imposing pirate who will work for anyone if the money is right.
Appearances
Deep Water, Dark Water (First)
Trivia
He was Mimkey's owner before Malvolio Drake.
The two brothers' surname is maybe taken by Sir Francis Drake, a famous corsair who worked for Queen Elizabeth I of England.
Community content is available under
CC-BY-SA
unless otherwise noted.